SmartSuite v3.0 is FSI's latest version, released in January 2020.
This release includes new functions and new user experience's for all Administrator areas such as:
- Circulation
- Cataloguing
- Reports
- Global Functions (Global Changes and Global Deletes)
End client screens remain the same to minimise change management issues. These screens include:
- School's Collection Search Page
- TV4Education Search Page
- My Items
- My Profile
Prior to upgrading, we ask that you familiarise yourself with the following pre-requisites to ensure a smooth transition:
Spine Labels
The following labels are supported by the FSI customer service team:
Brand
Product Number
Label Size / Label Description

Avery

L7651

38.1mm x 21.2mm

Dataman

TL55

32mm x 28mm

Raeco

12601

2x Labels per copy

Label 1: 24mm x 32mm

Label 2: 32mm x 74mm

Raeco

12602

19mm x 19mm

Raeco

12603

19mm x 24mm

Vipa Labels

118

24mm x 32mm

WA Library Supplies

1556

19mm x 24mm

XJ Spine Labels

2640

19mm x 24mm
Prior to upgrading, please ensure your library has access to one of the supported label sheets.
Overdue Letters
As part of the SmartSuite v3.0 upgrade, our Customer Service team will convert any pre-existing overdue letters that are created in SmartSuite v2.0.
Please create a new mailbox ticket:
Subject: Overdue letters for v3.0
Ticket Body:
[SmartReport OR vLibrary Report] - [Overdue Letter Name]
e.g.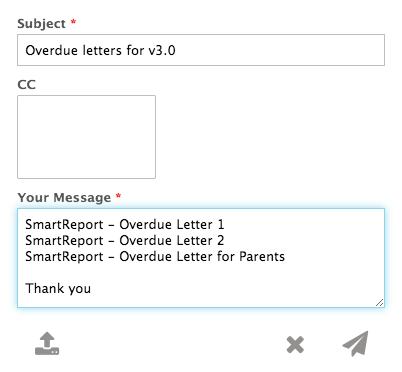 Customised v2.0 or earlier Reports (other than overdue letters)
SmartSuite v3.0 provides administrators with the ability to easily create your own custom reports, report layouts (templates) and letter templates.
In addition, our Customer Service team are building the global report library daily with new, exciting reports based customer service tickets and new reporting concepts.
Any custom reports that have been created in e-Library, v-Library, SmartLibrary, SmartSuite v1.0 or SmartSuite v2.0 are not transferrable to SmartSuite v3.0 as part of the upgrade process.